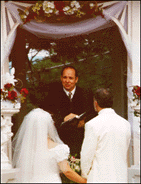 Welcome to BeautifulBeginning.net – Wedding Ceremonies, Vow Renewals and Baby Blessings in New Jersey." Here at BeautifulBeginning.net, we feel that each and every one of us deserves the opportunity to have our special moments celebrated. Let Nancy & Dick Weber guide you through your wedding ceremony, vow renewals or baby blessing in New Jersey. You deserve to celebrate your special day in a way you will remember, no matter your faith or beliefs. Contact us today to find out more about our services.

Personalized, Inter Faith and Non-Religious Baby Welcoming, Vow Renewal and Wedding Ceremonies in New Jersey at BeautifulBeginning.net! Whether you are an inter faith couple looking to be married or are non-religious but wanting to celebrate your wedding or baby blessing with a spiritual ceremony, Nancy & Dick Weber have you covered. In addition to our common or personalized wedding ceremonies, baby blessings and vow renewals, we can also guide you through your memorial services, commitment celebrations and other personalized ceremonies. Contact BeautifulBeginning.net to learn more about our services for wedding ceremonies, vow renewals and baby blessings in NJ. Thank you for visiting BeautifulBeginning.net, your wedding ceremony, vow renewal and baby blessing specialists. Are you interested in utilizing one of our many services? Give us a call today at 888-467-6572. In the meantime, continue browsing through our site to learn more about our company and services. Services built around your beliefs are just a phone call or email away!

We look forward to hearing from you and sharing your special moments with you and your loved ones!

We are committed to providing services in celebration of life and with the recognition that each of us is unique and that "one size does not fit all".

Religious, blended belief, spiritual, non-religion specific and secular (non-religious) ceremonies offered.

Our service is built around your needs, beliefs and choices.
Click here for information about Dick Weber, or Nancy Weber,

Click here for Helpful Hints for your joyous occassion

email: LIGHTWING@aol.com for Nancy
or ozwizard@optonline.net for Dick

Nancy & Dick Weber & Associates,
P.O. Box 1132, Denville, NJ 07834,
Ph: 888-467-6572 Fx: 973-627-4285